CYB Packages and Services
What we Do Best
No business is exactly alike, which is why we offer the ability to choose the best option for whichever season your business is in.
Specialties
We Can Do it All
All CYB Packages and Services come with your own client portal to store all HR forms, access to high-level HR support from our Certified and Insured HR Directors, and our HR Hotline that acts as a fire alarm so you can manage any issue before it snowballs out of control.
Your Full-Service Outsourced Human Resources Department: This option is perfectly designed for a Small Business Owner who is ready to pass on the HR responsibility of their business to an HR Manager (without having to hire one in-house!)
Includes HR Audit
Starting at $1,500/month
HR BOOTCAMP
Complete HR Audit, Review & Report, Customized Employee Handbook based on your headcount, location and industry, HR Standard Operating Procedures (SOPs) New Hire Packet & All Updated HR Forms, Access to your own secure client portal, Outsourced & Unbiased Red Flag HR Hotline, Your Choice of HR Training, Your own SHRM-Certified HR professional on-call and more!
Pricing Varies, Based on Employee Headcount Starting at $999, Inquire Within
Basic Package
First HR Steps for a Startup: Just the HR basics, handled by our team of HR Directors. We supply all that you need to get started and then continue to provide the support to protect you and your company.
Starting at $520/month
Entrepreneur Package
HR for the Entrepreneur: A lighter option for a small but mighty, growing business, so you can continue to invest in your company while making sure that your HR Bases are covered.
Includes HR Audit
Starting at $999/month
Just the Hotline
A must-have for any sized company with any number of employees. This option is included with any of our packages but can be purchased as a standalone option as needed.
Let us help
Additional Offerings
Our team of Certified HR Professionals can assist you with whatever season your business is in. Whether you are just starting out and need to build out your infrastructure, or you are preparing your business for acquisition.
PREAQUISITION
When you are preparing to sell your company, having your infrastructure completely built out is important!
Let our team of experienced professionals set you up for the most profitable acquisition.
Pricing Varies – Inquire Within
Startup Businesses Start Right
Building a small business from the ground up is hard, but getting started on the right foot is harder. We love helping new companies build out their perfect HR Department from the very beginning.
CYB's HR Professionals have experience preparing companies to start hiring their first employees. We expand with you as you grow into your dream business. Our process is interactive and step-by-step to ensure all your HR Management is up to code. Startup with all your bases covered!
Pricing Varies – Inquire Within
International Business Transition
Are you expanding your business or opening a new company in the USA? Let us help! Our HR Professionals have experience working with businesses just like yours as they expand into the USA. We can help make your transition clean and legal. This is a step-by-step interactive process with our Certified HRM team to ensure all of your HR Management bases are covered for your US operations.
Pricing Varies – Inquire Within
HR Audit
How much do you know about your company's HR department? Is everything filed on time? Are you hiring the best candidates? How long do you store employee paperwork? If you do not know your HR back to front, it is time for an HR Audit with our team. This is a one-stop shop for a full company HR inspection.
Let us find your weak points before the DOL or IRS do!
Pricing Varies – Inquire Within
Self-Led Masterclass
Learn the BASICS of HR so you know when to hire HR help: A self-led course for the entrepreneur, who has heard about the importance of HR, but is not really sure why it matters for them. This will get your feet wet and show you the benefits of having HR support in place as you grow! That way, when you recognize you need the help, you know where to go!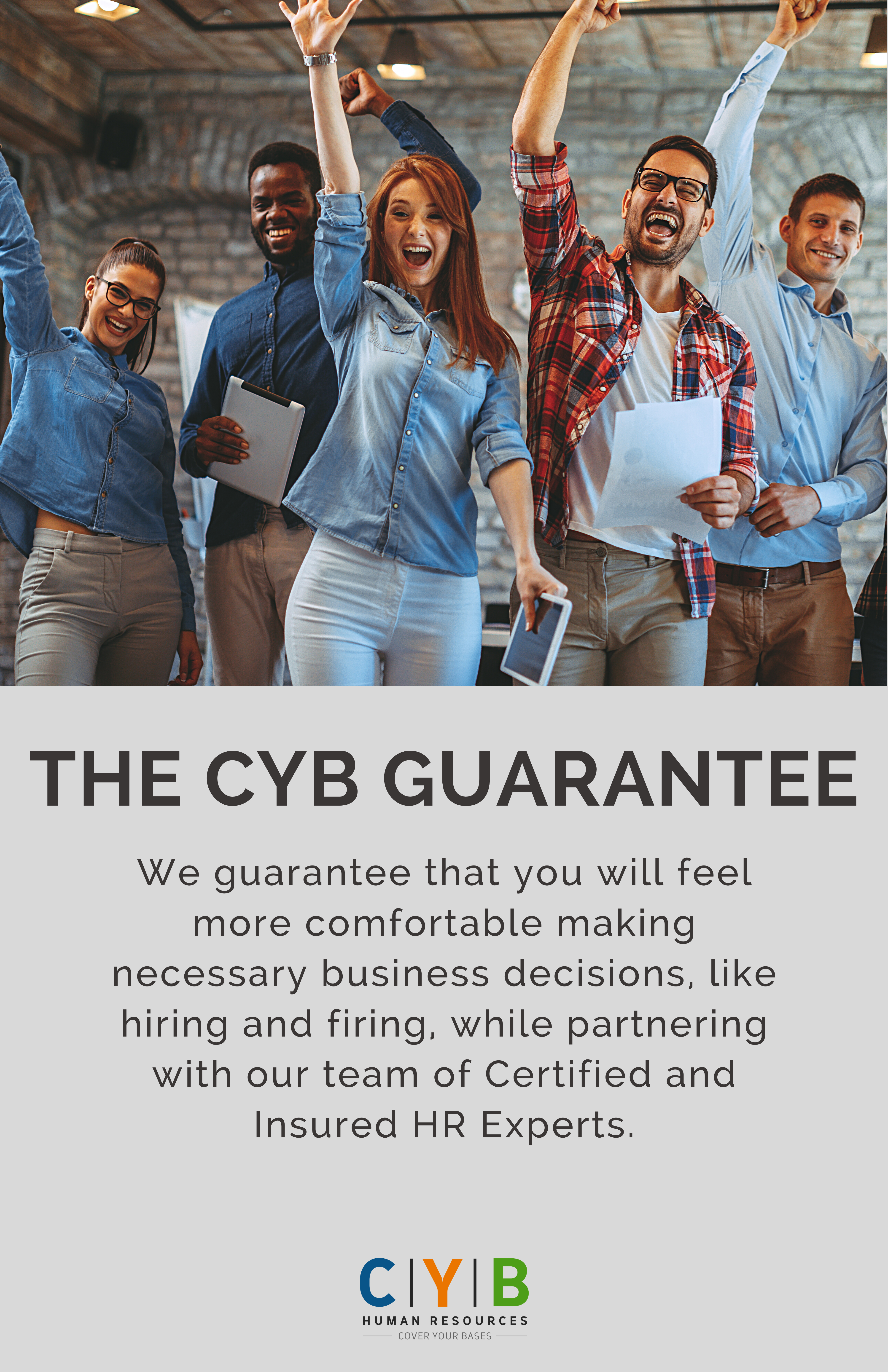 Small Business HR Management
What We Can Do For You
Our team of SHRM-Certified HR professionals have years of in-house and HR consulting experience.
CYB's packages and services are customized to what you need at this time. We work alongside you to create and implement policies and procedures that will transform your culture and decrease turnover. We help you manage your employees and protect your business from employment lawsuits.
You can even book a free HR assessment and speak with one of our HR professionals now!
HR BOOTCAMP
During our initial HR Bootcamp, you will be given everything you need to be successful and avoid a lawsuit. This process provides you with the peace of mind, knowing your bases are covered when it comes to your company's HR. 
Certified HR Experts
Our team of SHRM-Certified HR experts are available to you, 24/7, taking the pressure off your shoulders as the business owner.  With a solid HR strategy in place, we will help you grow your business with peace of mind, having all of your HR bases covered. Our Tulsa Small Business HR team will manage it all for you.
Confidence in your HR decisions
While working with us, you will know the business decision you are making is the legal one. You know you have everything in place to avoid an employment lawsuit.
A solid infrastructure allowing growth
Having an infrastructure in place to support a healthy company is paramount to the company's success. We will put the building blocks in place for you so your business continues to flourish.
Specialties
HR Support Services
If you are struggling to know all there is to learn about HR and your small business, we are the partners for you.
Employee Handbook, Internal SOPs and Policies
The employee handbook is the building block of all things HR. It is a priority for us to be sure that all clients have an updated employee handbook that works for them. We will guide you through the process of creating a handbook and all associated standard operating procedures that you will need to manage the HR and avoid a lawsuit at your small business.
Employee and Labor Relations
In addition to proper compensation, employee retention relies on the culture and relationship you create for each individual you hire. Starting with on-boarding, we'll assist you in creating a program that helps new hires quickly become acclimated and comfortable. We also teach your management team how to reduce employee turnover through active listening and open communication.
We also teach you how to efficiently and compliantly administer off-boarding procedures including exit interviews that help you improve your current office environment.
Employee and Management Training
The best practice in maintaining the best employees and reducing turnover is to ensure that all employees are being treated fairly and feel comfortable in their environment. We offer training of all types, from sexual harassment training of employees and managers to general management training including standard and legal practices regarding hiring, termination and everything in between.
Talent Management, Recruiting & Hiring
If the right person for a specific position is particularly difficult to find, or you're concerned with creating the bandwidth to screen, interview, and make offers to candidates in addition to your normal duties, allow us to handle acquisition for you. We'll ensure job descriptions are accurate and professional, candidates are properly screened and interviewed, and offer to the right individual are correctly formatted. Don't go without critical personnel or risk hiring the wrong candidate. Contact us for an easier, more efficient talent acquisition process.
Workforce Planning
As your business grows, it's important to take a critical eye to your organizational structure to find areas with opportunities for increased efficiency and productivity. Our organization-wide analysis allows you to pinpoint the genesis of issues related to HR, payroll, or common issues within each department. We'll also reveal bottlenecks where processes are being slowed due to over-worked employees and under-staffed divisions, or show you opportunities that are being completely neglected or missed due to a lack of critical positions or skill sets.
Compensation and Performance Management
In order to keep the right personnel on staff, you need to first hire the right talent, then keep those valued employees on board as they advance in their careers. That begins with creating the right job descriptions and pay structures for each position of need. We not only ensure that descriptions are written in order to bring in the right candidates, but also so they avoid discriminatory language and other common issues. Through competitive analysis, we also educate you on the wages of specific positions in order to allow you to make realistic, competitive offers to the individuals of your choice. Our services also help you stay compliant with the Fair Labor Standards Act in deciding what positions should be salaried, and what employees deserve exempt or non-exempt status.
Corrective Actions and Terminations
Our team will ensure that you have all required documentation in place in order to terminate an employee when needed. We will assist you in creating the corrective actions and performance improvement plans, and coach you through presenting them to the employee.
Organizational and Human Development
The key to any business is the success and proficiency of its employees. We help you develop programs that encourage continued growth and education from individuals throughout your organization. By teaching and training your current employees, you'll improve retention and create senior staff who live and breathe your company culture out of today's new hires.
HR Strategic Planning and Administration
In order to get where you want to go, your HR policies need to be in order. Through strategic planning, we help you develop policies that align with the direction of your business. From your staffing needs to behavioral policies, to an effective growth plan, our strategic planning services ensure that your business grows in the right direction and that your HR department grows with it.
Payroll Solutions
We offer customized solutions to help you deal with the bear of payroll. Enlist our services to co-manage payroll, or hand the entire process off to us to allow you to focus on other mission-critical duties. We'll even help you find an affordable vendor to outsource payroll duties to. Whatever your needs regarding payroll, we're here to help.
Benefits Management
Proper benefits management results in lowering costs for current benefits packages, and improving benefits for employees through analysis, which results in better retention and a happier office. We ensure that your money is spent wisely in order to bring your employees the best benefits package possible. At CYB Human Resources, we take it a step further and assist you and your management team in preparing communications about employee benefits in order to fully educate without over-promising.
Safety and Workers Compensation Guidance
The safety of your employees should be a primary concern and objective. That begins with creating a company-wide culture dedicated to proper safety procedures. We'll help you develop and implement a safety plan to create this culture that ensures workers receive the necessary OSHA and safety training to perform their duties. We'll also help you institute a reporting process for safety hazards aimed at the prevention of injuries and liability issues. With proper safety policies in place, worksite accidents will be minimized. Even so, we'll help put regulations and timelines in place to keep you compliant in the event of an accident. Additionally, we'll apply our expertise to help you keep worker's comp insurance premiums affordable.
P.O. Box 52354, Tulsa, OK 74152
+1 833 292 2727
info@cybhumanresources.com